The organizational structure of the fire department is best understood by reference to the organizational chart for the Fire District. However, the organization is generally described as managed overall by the elected policy-making and governing body, the Board of Fire Commissioners, whose policies are implemented on a day-to-day basis by the appointed Fire Chief/Administrator.  The Board and the Chief are aided in accomplishing the mission of the department by an appointed District Secretary, whose primary duties are administrative, including maintaining Board meeting minutes and records. Various fire service officers, firefighters, emergency medical technicians (EMTs), volunteer firefighters, and other staff round out the district's work force and accomplish the delivery of vital services to the public.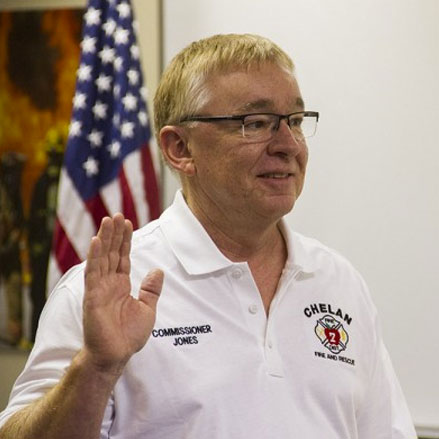 Russ Jones
It's my duty to serve the citizens of the Chelan area to the best of my ability to ensure Chelan Fire and Rescue remains a superior fire department. I believe serving the community is an obligation in exchange for getting to live in the best place on earth.
Professional Experience:
32 years in banking as a commercial and consumer loan officer and Branch Manager.
14 Years teaching sailing as a certified instructor.
Small farm operator growing nuts and berries.
Education: Bachelor of Science, Business Administration, Central Washington University
Outside Interests: Sailing, astronomy, mountain biking
Personal Information: Russ grew up in Wenatchee and has been living in Chelan since 1984.
Russ was a founding member of the Lake Chelan Nordic Skiers and the Lake Chelan Sailing Association and is a current member and past President of Rotary.
Email: rjones@cfr7.org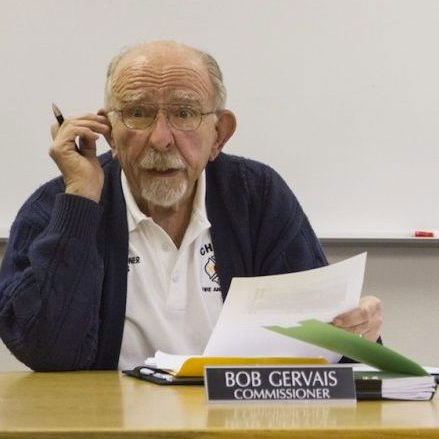 Robert Gervais
Robert Gervais was elected Chelan Fire and Rescue Fire Commissioner in November 2009. Being a Fire Commissioner is an extension to Mr. Gervais long history of community service to Lake Chelan.
Professional Experience:
Entered United State Air Force July 1951 during the Korean Conflict.
While in the USAF served at a number of U.S. locations and overseas in Japan, Korea, Iceland, France and England. Retired after 22 years in the USAF as a SMSgt/First Sgt at Tinker AFB Hospital in Oklahoma.
Mr. Gervais served on the Lake Chelan City Council from 1977 to 1988.
Mr. Gervais was appointed Mayor of Lake Chelan in 1988 and continued his service until 1991.In addition to his activities as councilman and mayor, he also served as an EMT for 12 years, was President of the Lake Chelan Valley Ambulance Association for 1 year during its early days.
Retired as Clinic Administrator after 22 years of service.
Education: High School: Syracuse Central High School, graduated Jan 1950.
Attended various colleges and universities during his career majoring in public health and business administration.
Outside Interests: Member of Kiwanis, serving as President for one year and auctioned at their annual fund raising drive for several years.
Member of Meals on Wheels delivery for 10 years.
Personal Information: Born: Syracuse, NY 1932
Email: RGervais@cfr7.org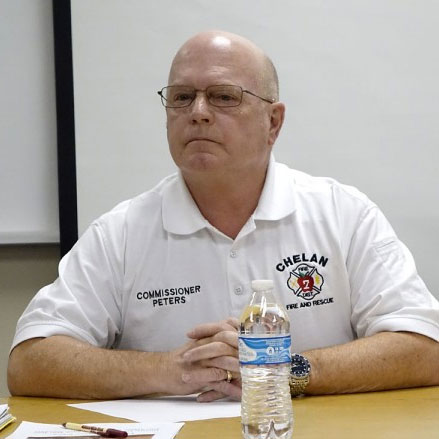 Tom Peters
Commissioner Peters pledges to do his best to support the continuous improvement of Chelan Fire and Rescue.
Professional Experience:
Tom has over 33 years of experience in Human Resources, 28 of which were with the Boeing Company. His later assignments with Boeing included Director, Corporate Compensation and Director, Human Resource Information Technology. In various other assignments in his career he has had responsibility for personnel, labor relations, training, staffing and workforce planning. Tom has been retired since 2006.
Education: A.B., Psychology, Ripon College
M.S., Psychology, University of Wisconsin-Milwaukee
Outside Interests: Reading, Biking and Travel
Personal Information: Commissioner Peters was born in Milwaukee, Wisconsin, 1949
Email: tpeters@cfr7.org