Public Notices
Important Public Information
Employment / Volunteer
Join Our Team
11-27-19 Public Notice
Re: Board of Fire Commissioner / December regular meeting date and time change.
Chelan Fire and Rescue Board of Commissioners regular meeting of December has been changed
and is scheduled for Wednesday, December 11, 2019 and will start at 4:00 p.m. located at 232 East Wapato, Chelan station 71 meeting room.
Dear Chelan Residents: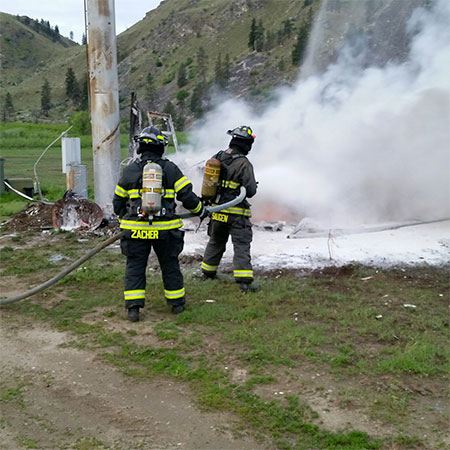 Chelan Fire and Rescue plans to perform live fire training at the structure located at 305 N. Emerson on November 16th, 2019 from 0800-1800 hrs.  The purpose of this exercise is to provide training to your firefighters under realistic conditions.  These exercises allow us to maintain our skills at an optimum level, helping to assure that we are ready when a real fire emergency occurs.
This exercise will be controlled.  We have planned additional resources to help ensure that this training is conducted safely; both for our personnel, and for the safety and property protection of others.
We will be constantly monitoring the wind conditions and the effect that this exercise may have on the residents in the area.  We request that you keep your windows closed and to notify us if you feel smoke is getting into your house.  It is also recommended to keep pets indoors.
You are welcome to watch and take pictures on the day of the burn.  There will be an area set up specifically for those wishing to observe the training.
Should you have any questions or concerns regarding this exercise, please contact me at Station 71 or call (509)682-4476.
This training is designed with you in mind.  A live fire exercise is the best type of training that we can provide your firefighters.
Sincerely,
Brandon Asher
Assistant Fire Chief
Chelan County Burn Ban has been lifted as of October 1, 2019.
Burning of natural vegetation is allowed outside city limits and urban growth areas.
Daylight hours only, fire must be out by dusk.
Natural Vegetation pile of 4×4 in an open area and away from structures.
One person must be at burn site at all times.
Orchard Burns – need to call D.O.E at 1-800-406-5322, listen to prompt for Chelan County. Call the fire station 509-682-4476 to notify us you are burning.
Chelan Fire and Rescue is currently seeking Volunteer Emergency Responders!
Come join our team and serve your community. Positions are available in structural firefighting, wildland firefighting, ems, and support services. Contact Assistant Chief Brandon Asher at (509)682-4476 for more information.
DRAFT Budget 2020-2022
The Board of Commissioners met in a special meeting October 30, 2019 to discuss the 2020 budget. The draft budget breaks down the revenues and expenditures by categories. The draft budget reflects a percentage and taxation cost for each expenditure line item. The draft budget shows costs through 2022.
Currently the fire district collects .85 cents per $1,000. To generate $100,000 it takes .04 cents per $1,000.
If you have any questions please contact Fire Chief Mark Donnell at 509-682-4476.
Helpful Links
Air Quality – Washington State Department of Ecology
Washington State Fire incident information
Okanogan Wenatchee USDA Forest Service