Public Notices
Important Public Information
Employment / Volunteer
Join Our Team
June 1, 2020 BURN BAN IN EFFECT
State of Washington DNR – Outdoor Burn Ban 07-28-2020
07-28-2020 CPL Statewide Burn Ban
Very HIGH fire Danger – July 27, 2020
Chelan County Resolution 2020-77 07-27-2020
Chelan County Public Service Announcement  7-27-20
Resolution #2020-70 High Fire Danger 06-29-2020
Public Safety Announcement – June 29, 2020
Resolution 2020-70 was passed by the Chelan County Commissioners that the designation of the Fire Hazard Level will be High beginning on Monday June 29, 2020.
Remember that Fireworks are prohibited throughout Chelan County.
As of Monday June 1, 2020, open burning was closed. This includes natural vegetation and yard debris. This restriction remains in place until October 1, 2020
Attended recreational campfires are allowed at private residences and hosted campgrounds in approved "campfire areas". Have a shovel and water readily available on site to suppress the fire.
"Campfire area" is an outdoor fire-burning area for recreational fires where natural wood materials other than rubbish can be burned. The campfire area must have all combustible material removed down to mineral soil and shall have a containment area of either rock, metal, concrete or any other noncombustible material and shall not be more than thirty-six inches in diameter and twenty-four inches high. All combustible material one and one-half feet surrounding the campfire area shall be removed. Fuel for the recreational residential campfire shall not extend above the edge of the campfire containment area.
No Household trash or garbage shall be burned outdoors at residences at any time.
Burn barrels are illegal and are not permitted.
Resolution #2020-54 – Chelan County
Burn PSA 5-28-20 – Fire Marshal Bob Plumb
Chelan Fire & Rescue Community
With the current Coronavirus pandemic (COVID-19) we want to make certain that members of our community have access to good information as we work together to keep our community safe and healthy.
Chelan Fire & Rescue is working closely with our partner response agencies of Lake Chelan EMS, Chelan County Fire District 5 (Manson), Chelan County Fire District 8 (Entiat), Douglas County Fire District 4 (Orondo), and the Chelan County Sheriff's Office as well as community leaders from Chelan and Manson in managing a focused response to the needs of our community.
Working under the direction of Chelan-Douglas County Public Health and Chelan County Emergency Management our local Incident Management Team will be issuing updates regarding this current situation as well as providing access to the information necessary to keep you informed and educated.
We are providing links to the following websites to keep you up to date on the most current information:
Sparky received his personal protective equipment. Thank you Chrys for keeping Sparky safe and healthy. Lets all wear a mask when in Public.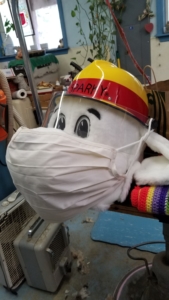 Are you Ready for Fire Season? 
According to the latest forecast from the National Interagency Fire Center much of the Pacific Northwest is facing "significant large fire potential" for this summer.  The long- range outlook is predicting that warmer and drier than average conditions for Washington through July coupled with cancelled prescribed burning have the potential for increasing our fire problem this season.  Add the possibility of staffing issues due to the Covid-19 pandemic and we will all be working hard this year to minimize our fire loss.
So, what can you do now as a property or home owner?
With our current Stay at Home directive in place we should being thinking about creating defensible space.  Now is the perfect time to get outside and take these easy steps to protecting your home:
Create at least 30 to 100 feet of defensible space around your home (firewise.org)
Create a "fire free" area within 5 feet of your home using non-flammable landscaping materials and low-growing, high moisture plants.
Clean roofs (remove branches and leaves), gutters (clear pine needles) and decks (move flammable furniture.)
Reduce brush, prune trees (to a minimum of 6 feet from ground) and mow/water grasses regularly to reduce "ladder fuels" that can carry fire from the ground to your home.
Move wood piles, propane tanks, and other flammable items at least 30 feet away from structures.
Replace vent screens with 1/8" or smaller screens to prevent firebrands from entering.
Consider using Class-A asphalt roof shingles, clay tile, or slate roofing materials.
For free Firewise assessments of your home and property please contact Chelan Fire & Rescue at 509-68-4476 and we will gladly schedule a convenient time for you so that our crews can come out and complete the assessment with you.
Remember, we are all in this together in keeping our community safe and healthy.
CHELAN FIRE AND RESCUE PRESS RELEASE:
At noon this Wednesday, July 1, 2020 Chelan Fire and Rescue will be doing a test activation of its community siren.  After floating the idea of creating community awareness going into a predicted bad fire season, we were met with overwhelming support of reactivating the siren.  The siren will only activate when Chelan Fire and Rescue is on 2nd alarm or greater wildland or structure fires.  In these situations, we have asked for all available manpower and equipment from all 5 of our stations.  This again will serve notice to the community to be prepared for a wildland fire that could potentially be threatening the safety of our citizens and visitors.  It also serves notice that there could be a delay in other responses due to having to break a truck away from the current emergency.  There will be no weekly test of the siren as we understand that it is loud and people may wonder what it is for.  After this Friday if the siren goes off take a quick look at your surroundings and look for smoke. Every effort will be made to update our social media pages and other media partners with as accurately and timely of information as the emergency allows.
Helpful Links
Air Quality – Washington State Department of Ecology
Washington State Fire incident information
Okanogan Wenatchee USDA Forest Service